Stop playing whack-a-mole with your Chromebooks.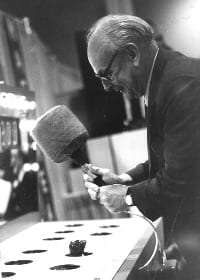 Are you getting the full potential from the Chrome device management model?
Do you move sets of Chrome devices into organizational units to optimize device settings for different groups of users, or for special use-cases, like kiosk-mode for computerized testing?
Do you use the Chrome management console to keep asset IDs, usernames, locations or notes up to date?
Can you quickly track down devices with older versions of Chrome, a specific serial number, used recently by a specific user?
When devices turn up damaged, or when users are suspected of vandalism, can you get the evidence you need to resolve the situation?
Challenges that prevent schools from getting the most out of the Chrome Management Console
Limited search parameters make it challenging to fully explore patterns or filter for groups of devices by a specific characteristic.
Without a 3rd party tool, keeping annotated fields like location, asset ID, user, and notes up to date requires painstaking, device-by-device data entry.
Selecting and moving a large number of devices from one organizational unit to another can be quite challenging within the console interface.
There are no search options that query against device activity history.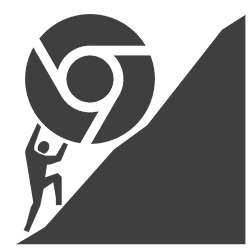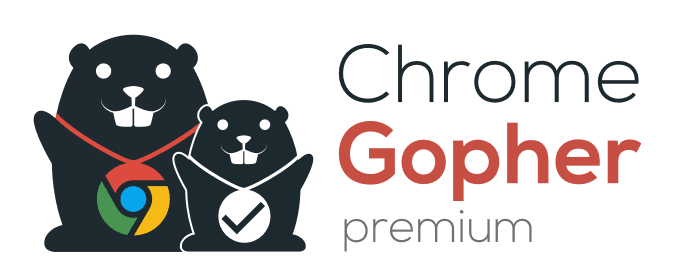 Gain additional reporting insights and fleet health with the Gopher Buddy Chrome Extension
Gopher Buddy is a Chrome Extension, available with the Chrome Gopher Premium offering that:
Extends the reporting powers of the Chrome Gopher to include user sessions that capture username, local & public IP address, start time, and session duration in minutes.
Nudges users to help prevent Chrome devices from falling behind in their OS updates.
| | Chrome Gopher Basic | Chrome Gopher Premium |
| --- | --- | --- |
| Query & import, modify & update Chromebook metadata in Sheets | X | X |
| Bulk load devices by serial or asset ID | X | X |
| Bulk load devices via CSV file | X | X |
| Bulk enable / disable devices | X | X |
| Bulk deprovision devices | X | X |
| Quick find and update a single device by Asset ID, User, or Serial Number | X | X |
| Run auto-refreshing reports & pivots on OS, Model, org unit, and utilization | X | X |
| View major OS and number of versions behind latest by device model | X | X |
| Report from ordered list of recent users, or 15 most recent active dates without users identified | X | X |
| Give site-based staff ou-delegated access to report only on their devices | X | X |
| Report local and public IP address on device usage, by user email address | | X |
| See most recent IP address on all devices, by user email address | | X |
| Report up to 90 days of session timestamps & durations, by user email address | | X |
| Give site-based staff quick-access to device details, including detailed usage reports, within the Gopher Buddy Extension | | coming soon |
| Optionally auto-remind users to update Chrome devices if they are behind the latest Chrome version | | X |
| Optionally configure max Chrome version to use for update reminders | | coming soon |
| Display & scan barcodes for Asset ID and Serial Number directly from a Chrome device's screen | | coming soon |
---
"Chrome Gopher has saved me countless hours updating my Chromebook in the G Suite admin console. The report features allow our technology resource teachers to determine which schools are using their Chromebooks so that they can better support them."
Dave Carty, Fayette County Public Schools, KY
How Chrome Gopher works
Chrome Gopher is an Add-on for Google Sheets that can be installed by any user with administrative rights to manage Chrome devices.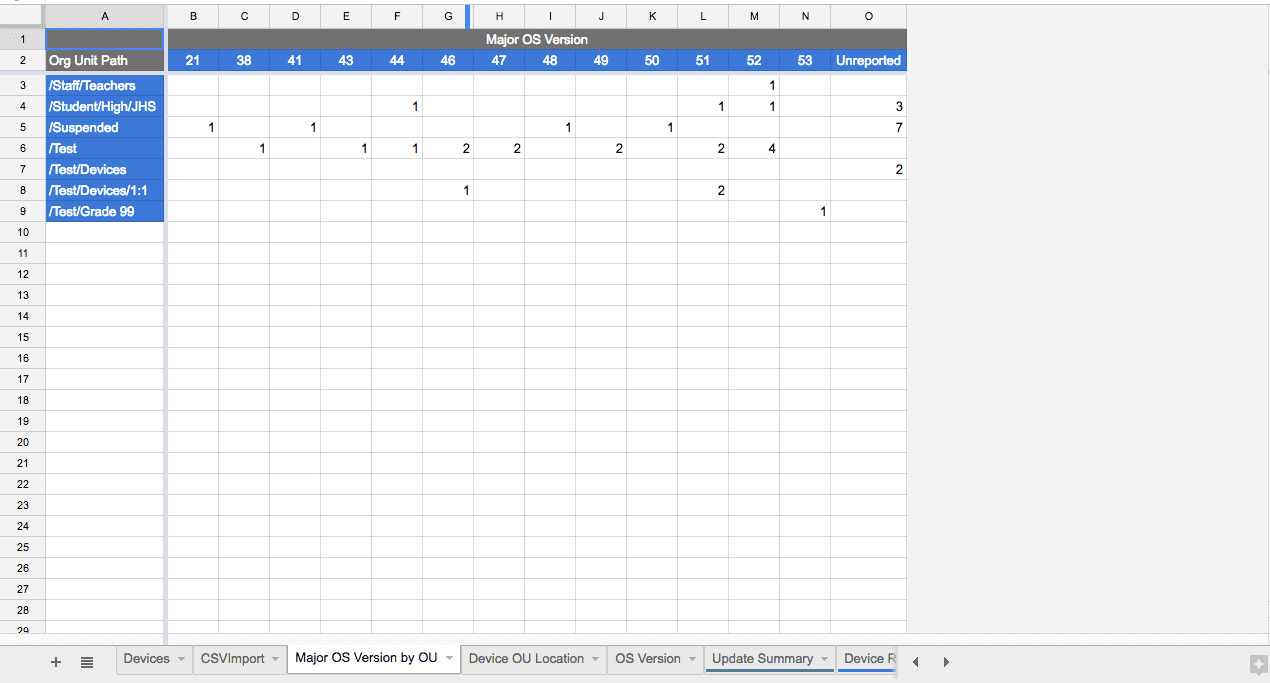 Useful breakdown reports
Quickly isolate outdated Chrome versions and device counts by OU.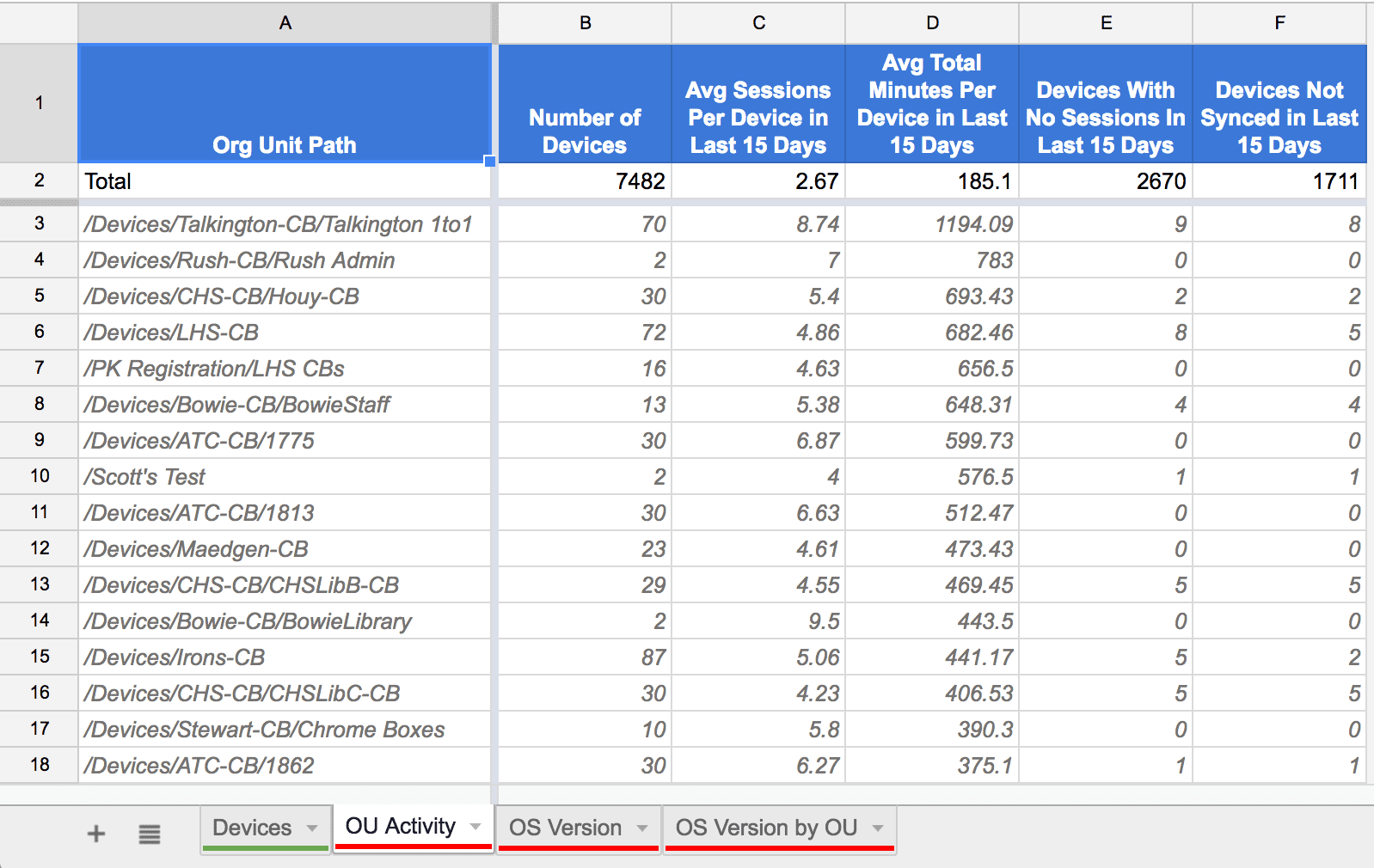 Org Unit Level Activity Reports
Knowing where your devices are being used, and where they aren't, can inform everything from device allocations to support strategy and gives key stakeholders a window into the returns on a district's Chromebook investment.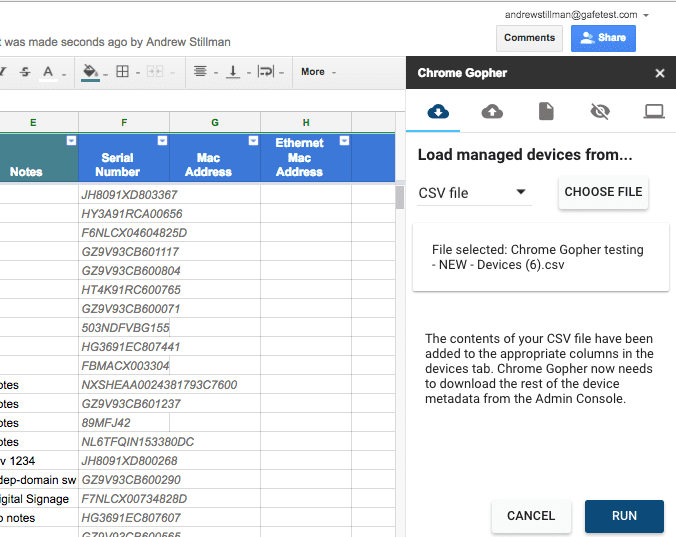 Load devices from CSV files
Many districts maintain an inventory or asset management system where a lot of useful information about their Chromebooks lives. This information can include Asset ID, Annotated User, Annotated Location, and Notes, which ideally you'd like to keep updated in Google's Chrome Management console. Since most asset management systems will export a CSV dump of data, we decided to make it easier to bring your asset management data into Chrome Gopher's Device tab.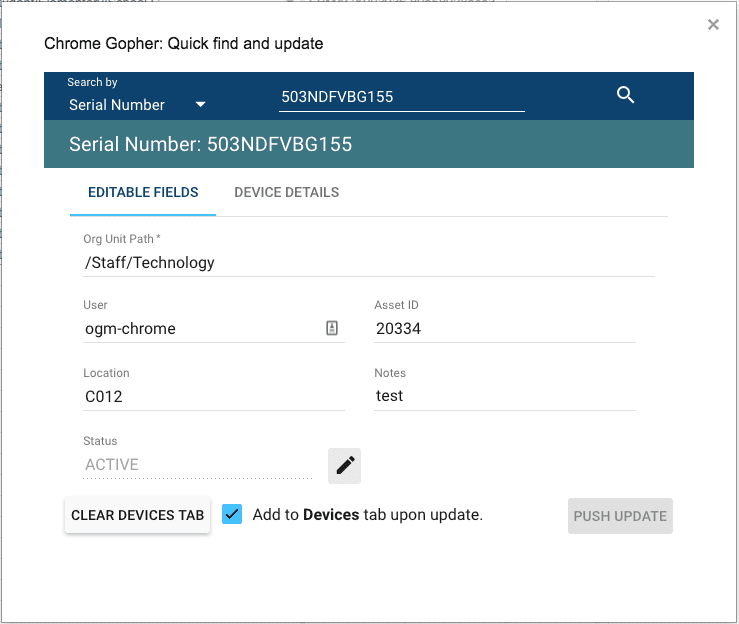 Quick find and update
There are times when you're looking to quickly discover information and make modifications to a single device at a time.  For example: when distributing / assigning machines to students in a 1-to-1 program, or when tracking down a lost and found device.  The quick find and update panel makes it possible to search for and quickly modify device information!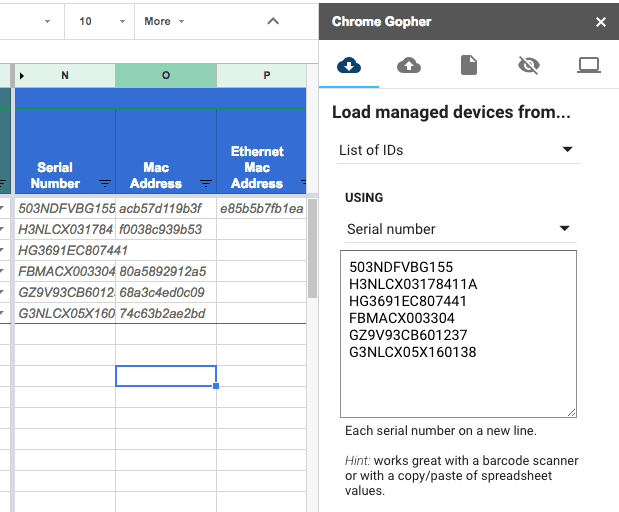 Load and edit multiple devices using a barcode scanner
School IT staff can use a barcode scanner to quickly enter serial numbers and asset IDs to batch-update devices in Chrome Gopher. Need to check that this set of 35 devices are in the correct cart? Need to move these 100 newly-unboxed machines into the correct org unit? Scan a list of devices directly into the sidebar and import them into the Devices tab, along with all their current Google reporting metadata, and update away!
star rating in Chrome store
"Chrome Gopher has been a huge time saver! Being able to quickly update Chrome devices in Google's admin console has let us spend more time getting devices to the classroom and less time managing them."
Michael Cullers, Granbury ISD, TX
"Chrome Gopher has allowed me to go from days to minutes when mass updating Chromebooks. We have over 12000 Chromebooks in our district, and we order 4000 at a time. Chrome Gopher has simplified the way we get information into our Google Admin Console, working within Google Sheets. This is a life saver!"
Susan Herder, Mounds View Public Schools, MN
happy districts and counting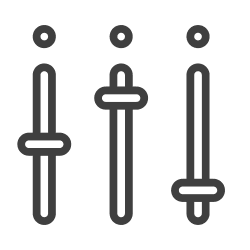 Your device data, your way
Put the full, flexible, filterable, formula-funtastic and feature-rich experience of Sheets to work against your bare-metal device data — just as it comes out Google's APIs.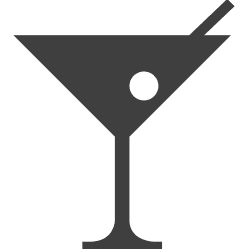 What are you doing Saturday?
If you've been doing all of this stuff manually in the admin panel, Chrome Gopher will give you back your weekends.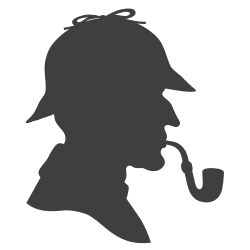 Elementary, my dear Watson
Your colleagues will indubitably remark upon your new swagger in solving workaday Chromebook mysteries.
Free trial
Access to all basic features for 15 days
After trial ends, you retain the ability to import devices to the Sheet
Quote request unlocks premium features for 30 days with no obligation
Install now
Basic, a la carte
starting at
Get 30-days of basic access with no obligation when you request a quote below

Unlimited domain users / access can be delegated by device OU… learn more
Additional 10% discount for GFE Technical Collaborative members

Dedicated help desk support

Receive an on-boarding video call with our consulting team (additional $150)
Build me a quote
Premium, with bundled subscription
starts at
Includes all premium (Gopher Buddy) features
33% discount when purchased as part of Gopher Pack or Labs Unlimited bundles
Existing Chrome Gopher Basic subscribers can apply the remainder of their subscription as credit towards an upgrade.
Same features & benefits as a premium la carte subscription, plus additional bundle subscriber benefits
Learn more
Premium, a la carte
starting at
Existing Chrome Gopher Basic subscribers can apply the remainder of their subscription as credit towards an upgrade

Includes access to the Gopher Buddy Service & Chrome Extension

Get 30-days of premium access with no obligation when you request a quote below

Unlimited domain users / access can be delegated by device OU… learn more
Additional 10% discount for GFE Technical Collaborative members

Dedicated help desk support

Receive an on-boarding video call with our consulting team (additional $150)
Build me a quote